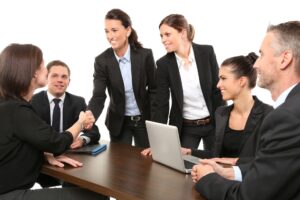 Mediation – A Comprehensive Approach
Steven is an attorney and a mental health professional with decades of experience in each field.  He understands both the legal and psychological aspects of a dispute.  He combines the best of both fields to reach efficient, fair settlements of complex disputes, and writes them up clearly to avoid future disputes about what was agreed to.
He knows what works and what doesn't, and that each situation is unique and needs its own solutions. He knows how poorly worded mediated agreements can spark future conflict.
Many of our successful mediations begin with two parties who are confident he other party is dead wrong and probably crazy.  Steven finds common ground and crafts creative solutions that everyone can live with, saving everyone the cost and uncertainty of litigation
We don't claim to create friendships from feuds. We do, however, create fair, lasting and efficient – and well documented – solutions that get you back to your business and life
"You took an impossible situation, totally f*&ked up, and turned it around.  I don't know how you did it, but you saved both of us from a train wreck lawsuit." — TA
Call 720-270-0070 or email for more information.
We Get Results
Steven has ended fights that other Mediators could not.
Real Estate and Construction Disputes
Steven has over 40 years of extensive experience in real estate matters and the construction trades (he built his own home – built it himself, didn't hire others to build it for him). He has worked with realtors, buyers, sellers, lenders, contractors, home owners and home owners associations. He combines common sense with knowledge of the practical and legal aspects of real estate and construction related disputes, visiting job sites and properties to see things first hand when necessary.
"Hey, that's a deal with you.  It's a good thing you've gotten your hands dirty in the trades.  A pin-headed guy who hires someone else to change his light bulb would have missed the point – or cost us a freakin' fortune to figure out what the hell was really going on, what this whole damn project was about.  No offense, I know you've got a lot of school too." — RM
Business Disputes
Business is about people – customers, suppliers, partners, investors, employees and managers. For personnel problems within a company, or among partners, shareholders or directors, or for disputes with suppliers or customers, Steven hears all sides, applies innovative theory and gets quick, practical, efficient and fair resolutions, so businesses can get on with … their business.
Divorce and Family Disputes
Steven has decades of experience resolving family disputes fairly and protecting children.  Whether you're starting a divorce or your family is still in turmoil post-divorce, Steven will help you cut through the drama and restore peace.